1 Castello Estense (Este Castle)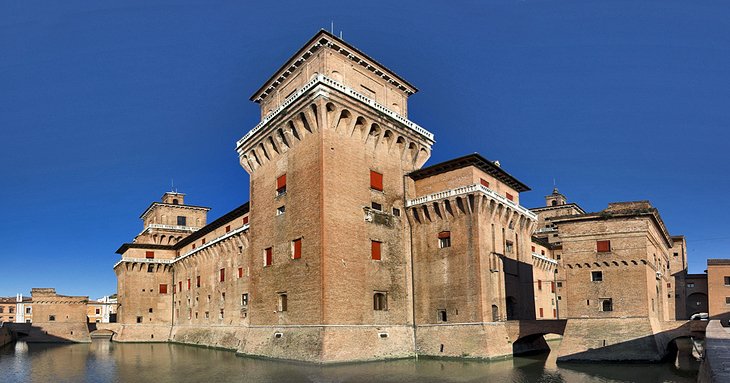 A revolt by citizens of Ferrara in 1385 struck enough fear in the ruling Este duke that he constructed this massive brick fortress to protect himself and his family. The castle's walls and towers behind their moat look less forbidding today, and its immense courtyard is often filled with colorful banners and booths of a local fair or festival. Pick up a tour brochure in English to learn about its history and art as you explore the castle's apartments, halls, marble balconies, passageways, and rooftop terraces. Not every room may be open, but the highlights are the magnificent painted ceilings of the ducal apartments, the Golden Room, and The Duchesses' Camerino. The latter is a jewel box of a room lined in painted panels that show the Estes' sophisticated tastes and the talents of Renaissance artists.
Address: Largo Castello, Ferrara
2 Cattedrale di San Giorgio (Cathedral of Saint George)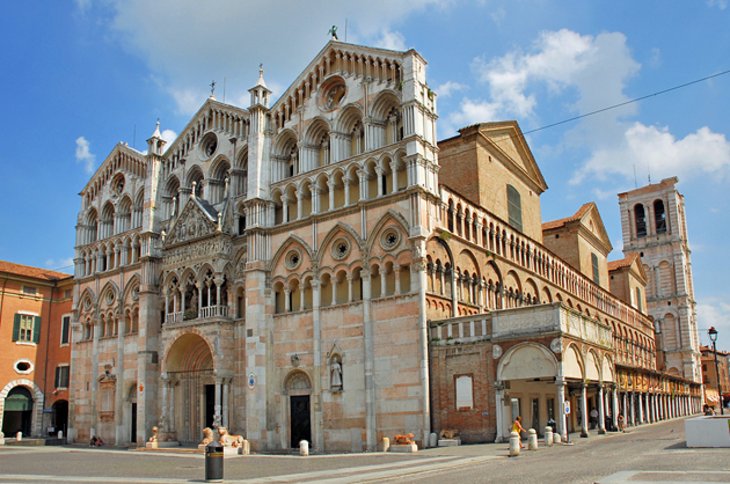 Close to the castle and also included in the UNESCO site, Ferrara Cathedral is an architectural image of the city's history. Its façade moves from a Romanesque lower tier, built in the early 1100s, upward to a beautiful early Gothic loggia from the 1500s. The imposing pink-and-white-marble bell tower is in the Renaissance style. Along the side facing Piazza Trento Trieste, the Loggia of the Merchants has housed shops since medieval times, and above it are two colonnaded galleries. Stop for a close look at the extraordinary Last Judgment carved in stone above the façade's central loggia. Righteous souls, gowned and crowned, march off to paradise, while the naked damned are shoved into a boiling caldron or into the mouth of a monster by a gleeful devil. The work's imaginative sculptor remains unknown.
Address: Piazza della Cattedrale, Ferrara
3 Museo della Cattedrale (Cathedral Museum)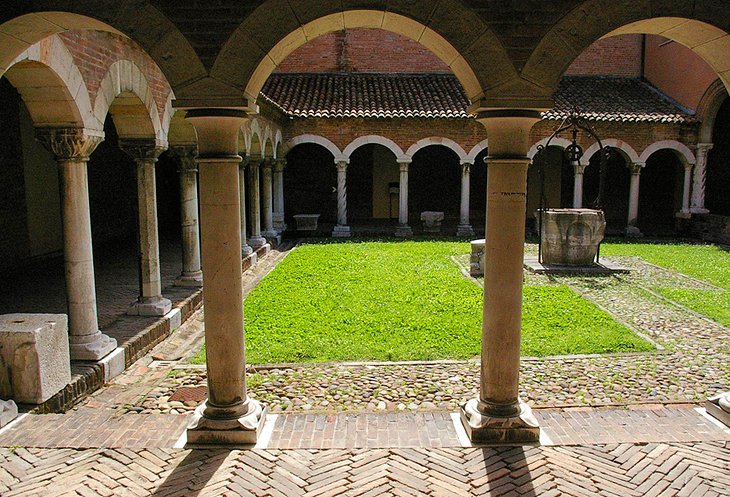 Over the centuries, the cathedral has undergone a number of renovations, some to protect its artistic treasures (especially exterior stone carvings that had begun to show signs of environmental damage) and others to update it to current tastes of each era. Some of the precious works that have been replaced are housed nearby in the former church of San Romano, along with other works owned by the church, some dating back as far as the Middle Ages. Unless you're a great fan of ecclesiastical art, the museum's main attraction is that it is arranged to give a good picture of Renaissance Ferrara's splendor. Especially beautiful are the early-13th-century tiles, a set of 15th-century anthem books illuminated by Jacopo Filippo Medici and other artists, and the extraordinary organ shutters showing Saint George and the Dragon and the Annunciation.
Address: Via San Romano, Ferrara
4 Museo Archeologico Nazionale (Archaeological Museum)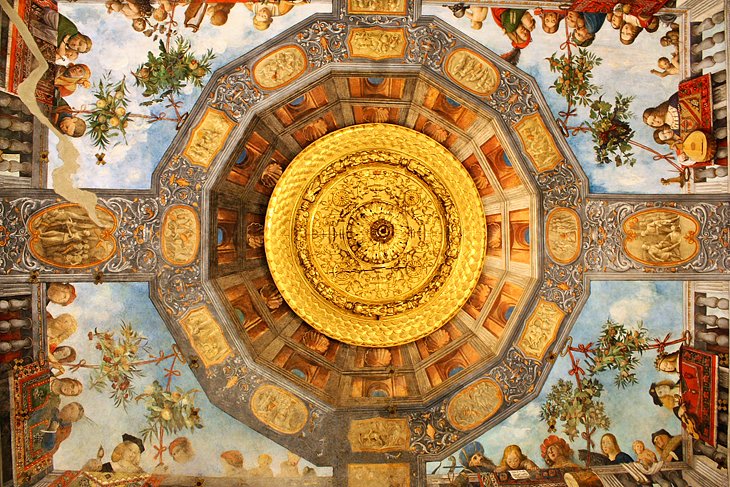 Don't be confused by the various names you'll see for the palace housing this museum. Although most often called Palazzo di Ludovico il Moro, it was actually commissioned by nobleman, Antonio Costabili, so it is also known as Palazzo Costabili. By any name it is a beautiful 15th-century Renaissance palace with a courtyard and frescoes that are early examples of trompe-l'oeil ("fool the eye") painting. Its splendid collections are mostly finds from burial sites at the nearby Greek-Etruscan city of Spina. An important and wealthy trading center, Spina flourished from the 6th to the 3rd century BC and was later submerged by waters of the Po Delta and lost until the early 20th century, when excavations unearthed of thousands of graves. Perfectly preserved Etruscan vases show scenes of daily life, and oil jars take the shape of animals. In the Sala degli Ori (Jewelry Room) is an extraordinary collection of gold, silver, amber, and glass personal ornaments by both Greek and Etruscan artists, and in the fresco-decorated Sala del Tesoro (Treasure Room) are two boats from Spina's late Roman period.
Address: Via XX Settembre 122, Ferrara
5 Palazzo dei Diamanti Art Galleries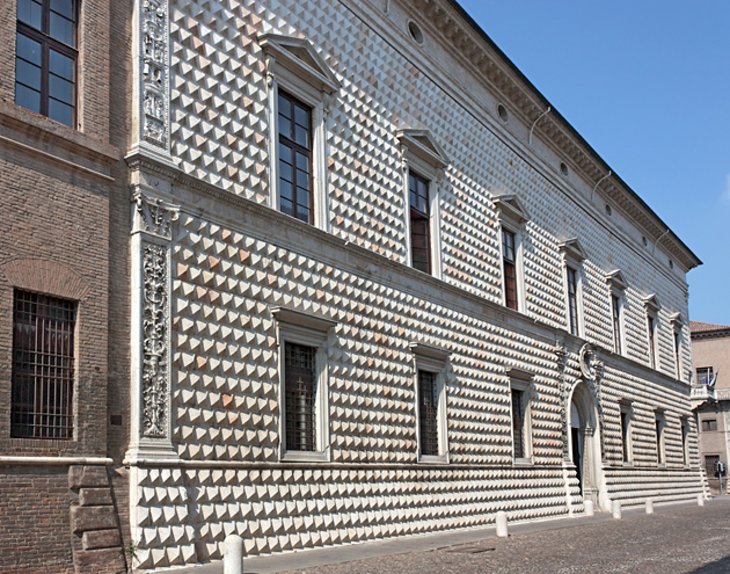 The Palazzo dei Diamanti is hard to miss, with its entire exterior covered in more than 8,500 faceted marble blocks. This unusual (and famous) example of early Renaissance architecture was, like the palace of Ludovico il Moro, part of Duke Ercole I d'Este's Addizione Erculea (Herculean Addition), a plan to remake Ferrara in the late 1400s. Today, the palace contains the Pinacoteca Nazionale (National Gallery), with works by 13th- to 17th-century painters of the Ferrara school, and on the upper floor, changing exhibitions in the Gallerie d'Arte Moderna e Contemporaneafeature major works by impressionists, post impressionists, and other later artists.
Address: Corso Ercole I d'Este 21, Ferrara
6 City Walls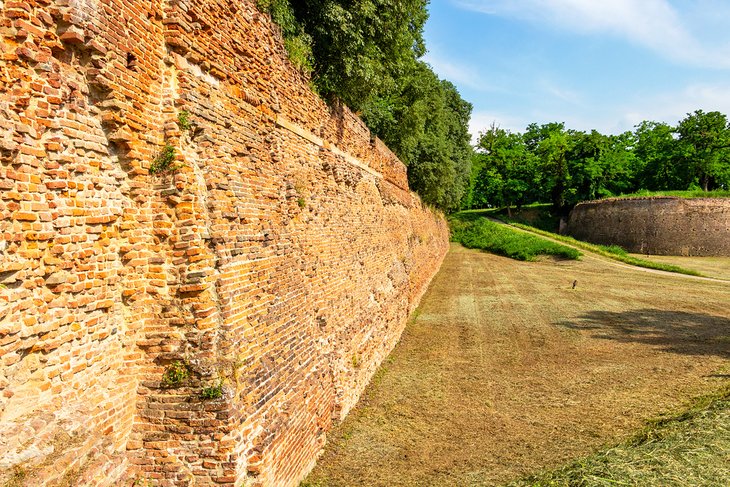 The eight kilometers of brick walls that surround Ferrara's historic center are among the oldest and most complete Medieval/Renaissance defensive systems in Italy. You can see here all the elements cities used to defend themselves in those uncertain times, including earthworks, moats, city gates, bastions, towers, and slots for archers. Today, their use has been reversed; instead of repelling people, the walls attract them, and the area is a favorite place to walk, cycle, and meet friends. For tourists, they provide a great vantage point for views of the city and countryside. Several parks adjoin the walls and moat.
7 
Editor's Pick

Monastero di S. Antonio in Polesine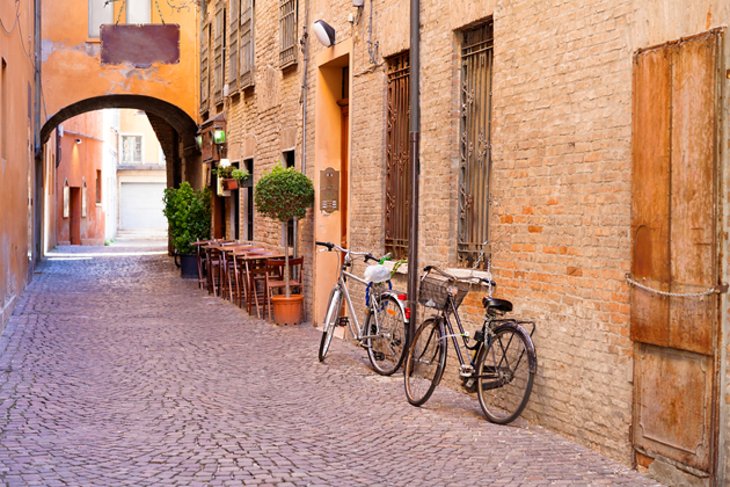 It's worth looking for this tranquil monastery just to wander through the tangle of medieval streets in the oldest part of Ferrara. It's quite a contrast from the grand avenues, parks, and palaces of the newer Renaissance city. The convent, whose decoration was lavishly supported by the Este family, has a chapel open to the public, with a beautiful 17th-century frescoed ceiling. The church inside, which a nun will show you if you ring the bell during the posted hours, has three chapels that are decorated in extraordinary early 14th-century frescoes, some by followers of Giotto. The carved and gilded wood altar and silent cloister are worth seeing as well. During services, the nuns sing, accompanied by antique musical instruments – a rare and beautiful experience that's not easily found elsewhere. If you go there early in your visit, you can check that day's schedule and return.
Address: Vicolo del Gambone, Ferrara
8 Palazzina Marfisa d'Este (Villa of Marfisa d'Este)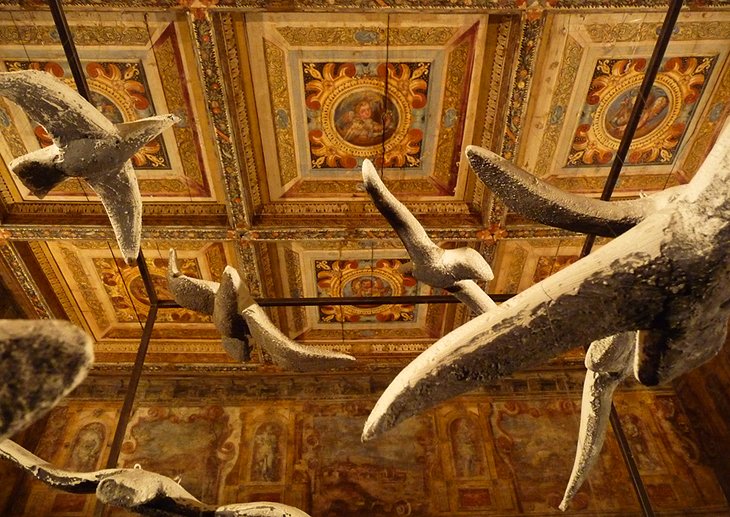 Built later than the grander Este palaces, princess Marfisa d'Este's villa is a lovely example of a 16th-century patrician home. The beautiful gardens that once surrounded it are now closed off by a loggia painted to imitate a bower.
Address: Corso Giovecca 170, Ferrara
9 Museo del Risorgimento e della Resistenza (Resistance Museum)
Those interested in World War II should be sure to visit this museum to see its collections relating to the Fascist regime, their actions (including the attack on the synagogue and the murder of local priests), the local resistance movement, and the Italian liberation. The museum is a five-minute walk from the Este castle.
Address: Corso Ercole I d'Este 19, Ferrara